SLOW FOOD FRIULI & USA
Ad uso e consumo dei visitatori di questo sito che ben conoscono l'inglese ed amano mangiare e bere intelligentemente-come SLOW FOOD insegna- riportiamo integralmente un articolo che l'autorevole CHICAGO TRIBUNE ha dedicato ai vini bianchi friulani sulla scia del notevole successo ottenuto dalla recente MISSIONE SLOW FOOD negli USA( Chicago Portland ecc.).
Ringraziamo il solerte architetto EMILIO SAVONITTO per averci fornito tale preziosa documentazione che la dice lunga sul buon lavoro che SLOW FOOD sta portando avanti nell'interesse dei produttori e del vino friulano più in generale. (Claudio Fabbro)
" From: Jan Mettler
Here is a good story born at Superwhites. Congratualations and best wishes.
--------------------
White intrigue
--------------------
Italy's Friuli proves that not all interesting wine is red
By Tom Hyland
Special to the Tribune
June 11 2003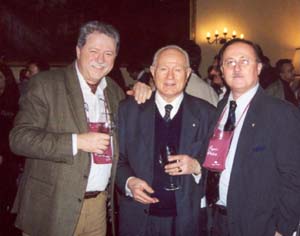 In California and Burgundy chardonnay is king of white wines. In New Zealand "white" means sauvignon blanc. Ask for "white wine" in Friuli in Italy's cool north and your waiter is likely to ask you to be more specific.
By climate and tradition Friuli is known for its white wines (even though almost half of its output is red according to Karen MacNeil's "Wine Bible"). At least six grape types are common from plain old pinot grigio (and chardonnay) to indigenous types such as ribolla gialla.
Friuli or in full Friuli-Venezia Giulia in northeast Italy borders Veneto to the west and south Austria to the north and Slovenia to the east. The Adriatic Sea makes up part of its southern border as well and the moderating influence of the sea breezes combined with its location so far north means cool temperatures are the norm.
Among Italian regions only nearby Trentino-Alto Adige also devotes serious attention to a large number of white wines. Almost every year Italian publications such as Gambero Rosso rank Friuli third among the country's wine regions. Only Piedmont and Tuscany known overwhelmingly for red wine receive more plaudits.
Chicago tastings of Friulian whites were organized in May by Friuli producers and Slow Food the Italian-born group that champions local and ruggedly individualistic producers of food from wines to turkeys. Most were from the 2000 vintage.
"We want to get a consumer awareness of white wines " said Joseph Bastianich a New York restaurateur and winemaker as well as retailer. Bastianich has insight into this region: His well-known chef mother Lidia is from Friuli.
"People drink a lot of white wine by the glass but sometimes it doesn't always get the attention that red wine gets " he said. "These wines are significant in their own right and they represent the region and the place the terroir."
Bastianich first produced Friulian wines under his own label beginning with the 1997 vintage. "I'm lucky to be able to go back and make wine in Friuli because the potential is tremendous."
Chardonnay and pinot grigio are produced in good numbers but the identity of this region is in such grapes as sauvignon (called sauvignon blanc everywhere else) and pinot bianco along with indigenous grapes such as ribolla gialla and tocai Friulano.
Most producers in Friuli deal with at least a half-dozen different white varietals which means a variety of flavors for consumers. This is one of the attractions of this region's whites according to Giulio Colomba a Friuli resident who is the international vice president of Slow Food.
There are two or three signature varietals in Friuli. Tocai Friulano known for its straw-yellow color and aromas of golden apples white peaches and even thyme is the classic dry Friuli white. The versions at this tasting ranged from the refined Livio Felluga to the more intense Villa Russiz.
For sweet whites picolit is a grape that is one of the wonders of the viticultural world. Because picolit vines congenitally produce only a few mature berries per cluster very little fruit is produced. To concentrate their flavor the grapes are dried on mats which also increases the alcohol content (to a final level of about 14 percent). This is a lush dessert wine that smells and tastes of honey peach acacia and almond and can be aged 7 to 10 years.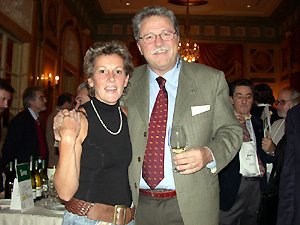 Verduzzo giallo is the other dessert-wine grape in Friuli yielding a wine known as Ramandolo named for the grapes' zone of origin. Golden yellow this is like a full-bodied picolit. Dario Coos is a producer that specializes in both wines and they were among the most distinctive wines of the tasting (prices are $35-$40 for 500-milliliter bottles).
Other standouts included the delicious pinot grigio from La Tunella ($16)
the pinot bianco from Venica (both $16) a boldly flavored sauvignon from Villa Russiz and two blends: Terre Alte from Livio Felluga (of sauvignon tocai Friulano and pinot bianco; $32) and Vespa (chardonnay sauvignon and picolit; $28) from Bastianich. These last two wines reveal the essence of this region's whites: complexity flavor structure and harmony.
Like many consumers Jennifer Melville wasn't familiar with these wines before the tasting. But she liked their elegance especially with the pinot biancos and tocai. Lauren Malloy liked the sauvignons "as they were crisper and lighter than the chardonnays."
Regarding food pairings Colomba suggested seafood and white meats for the dry whites and blue cheese or foie gras with the sweet whites. Bastianich concentrated on local Friulian foods.
"If it grows together it goes together " he said. "Products such as prosciutto di San Daniele with tocai or a ribolla with Montasio [a local cheese] are incredible. All those things just make sense on the table."
Copyright (c) 2003 Chicago Tribune
--------------------

Improved archives!
Searching Chicagotribune.com archives back to 1985 is cheaper and easier than ever. New prices for multiple articles can bring your cost down to as low as 30 cents an article: http://www.chicagotribune.com/archives